THE CAREGIVING PRINCIPLE®: MAXIMIZING THE CAPABILITY OF A LOVED ONE WITH DEMENTIA BENEFITS EVERYONE
Maximizing the Capability of a Loved One with Dementia Benefits Everyone
I was honored when Anthony Cirillo shared concepts from The Caregiving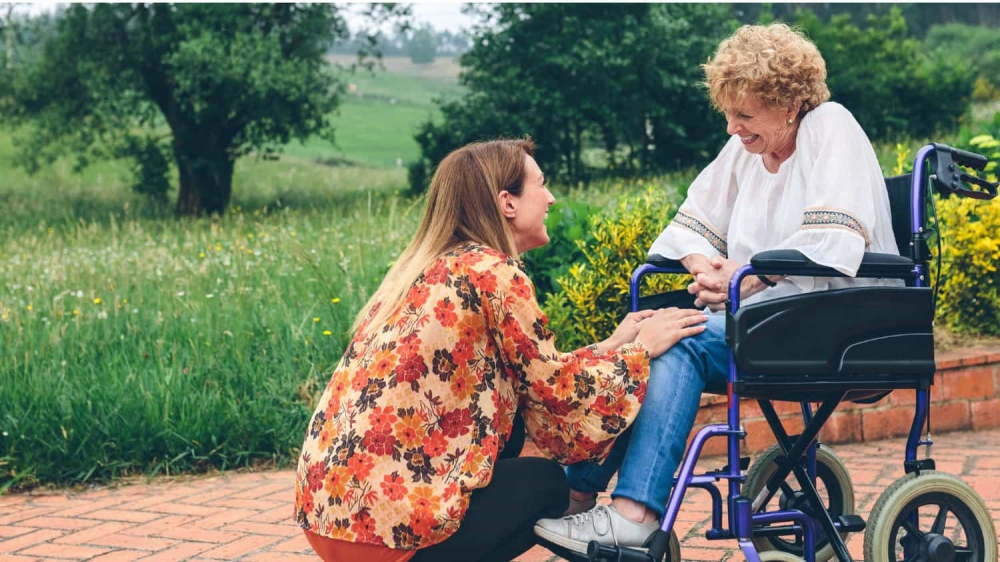 Principle® in Sixty and Me. Mr. Cirillo is president of The Aging Experience and the founder of Sage Stream, the Senior Entertainment/Education Network.
I developed The Caregiving Principle® as a caregiver for my mother during her 11-year journey. I realized that the amount of caregiving required was related to the needs of my mother and her ability to meet her needs. The Caregiving Principle® states:
Needs of the Person – Needs Filled by the Person = Needs to Be Filled by the Caregiver(s).
The Caregiving Principle® is a framework for the caregiver's role and provides a deeper understanding of a person living with Alzheimer's disease. Mr. Cirillo discusses how The Caregiving Principle® can help you maximize the capability of a loved one by understanding areas that can impact ability. For example, minimizing anxiety in your loved one can help maximize their capability. I used techniques like "Live in the Patient's World" from Joanne Koenig Coste to minimize my mother's anxiety and keep her focused on the task at hand. Mr. Cirillo emphasizes the importance of having a loved one do as much as they can with minimal frustration. The benefits are an increase in your loved one's self-esteem, potentially slowing their cognitive decline, and reduced caregiver workload. You can read the entire Sixty and Me article here.
Speak Up Talk Radio Network Interview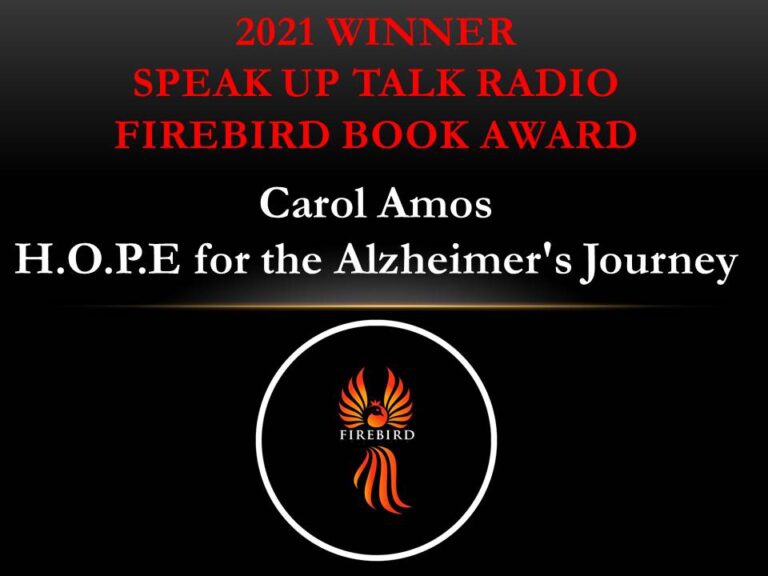 I had the most enjoyable interview with Pat Rullo on the Speak Up Talk Radio Network. "H.O.P.E. for the Alzheimer's Journey" won their Firebird Book Award in April. We discussed many of the practical aspects of using The Caregiving Principle® and I shared examples. Pat liked the personal touch of including our family emails in the book to convey our thoughts and decision-making process. The interview was a very nice way to highlight book award winners. You can listen to the interview on my Firebird Book Award page.
Pat and I continued our chat after the interview and I discovered she is also from Cleveland. This really is a small world.
Approval of Aducanumab for Treatment of Alzheimer's Disease
It is difficult caring for a person with Alzheimer's. Families are thrust into the caregiving role and must watch and adjust to the gradual decline of their loved one. This caregiving journey can last 5, 10, or more years.
Now caregivers have an additional item added to their list. They have to decide if they should pursue the controversial Biogen drug Aducanumab (Aduhelm) to treat their loved one. This drug is controversial because the Food and Drug Administration (FDA) overruled its own scientific advisory committee and approved Aducanumab for Alzheimer's treatment. The FDA "concluded that the benefits of Aduhelm for patients with Alzheimer's disease outweighed the risks of the therapy." Aducanumab is the first Alzheimer's therapy to gain federal approval in nearly 20 years.
Like many decisions faced by Alzheimer's caregivers, this is a personal decision. It's not a one size fits all. My H.O.P.E. acronym stresses the importance of E - Education for caregivers. Talk with your loved one's physician and discuss with your circle of support. Below are a few articles that discuss various perspectives on the use of Aducanumab for Alzheimer's treatment.
Alzheimer's Association Ambassador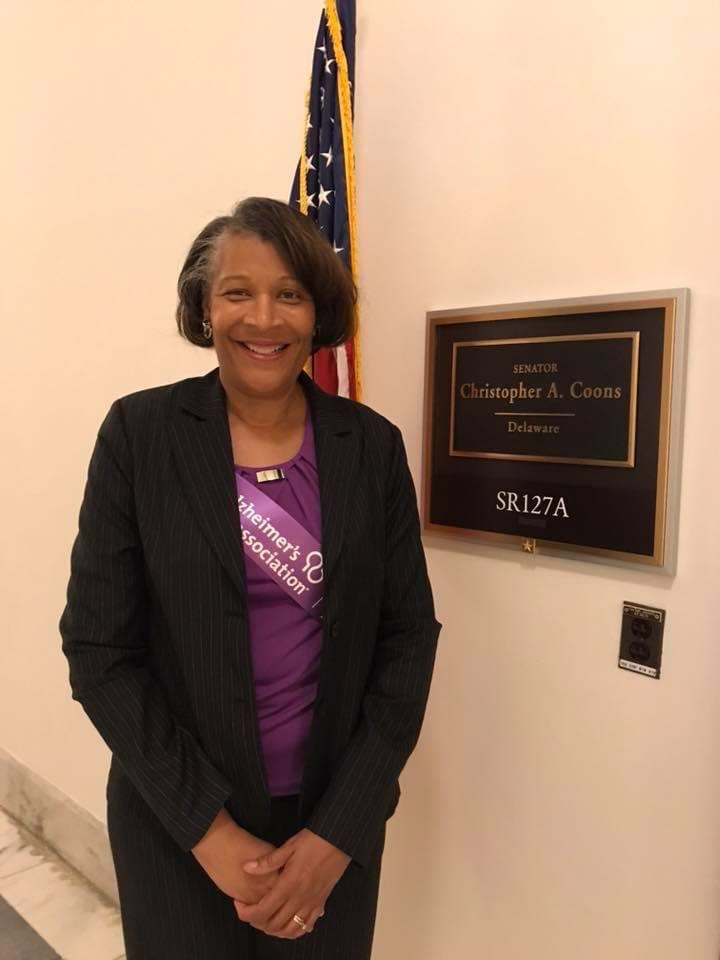 There are over 6 million people in America living with Alzheimer's. In my state of Delaware, there are over 19,000 people with the disease. One-third of all seniors dies with Alzheimer's or a related dementia. Alzheimer's kills more than breast cancer and prostate cancer combined. Alzheimer's disease is a growing epidemic for our nation and I want to be a part of the solution.
I was recently name Alzheimer's Association Ambassador to my U.S. Senator Christopher Coons. Senator Coons understands the plight of caregivers. He is a strong supporter of legislation to ease the burden on caregivers and eradicate the disease. As an Ambassador, I will expand my work to help those impacted by Alzheimer's. I will advocate for increased funding for research and support so that everyone with the disease can have access to effective pharmacological or lifestyle intervention treatment to reverse the course of this dreaded disease. I look forward to working with Senator Coons and his staff.
Please Share this Newsletter with Family and Friends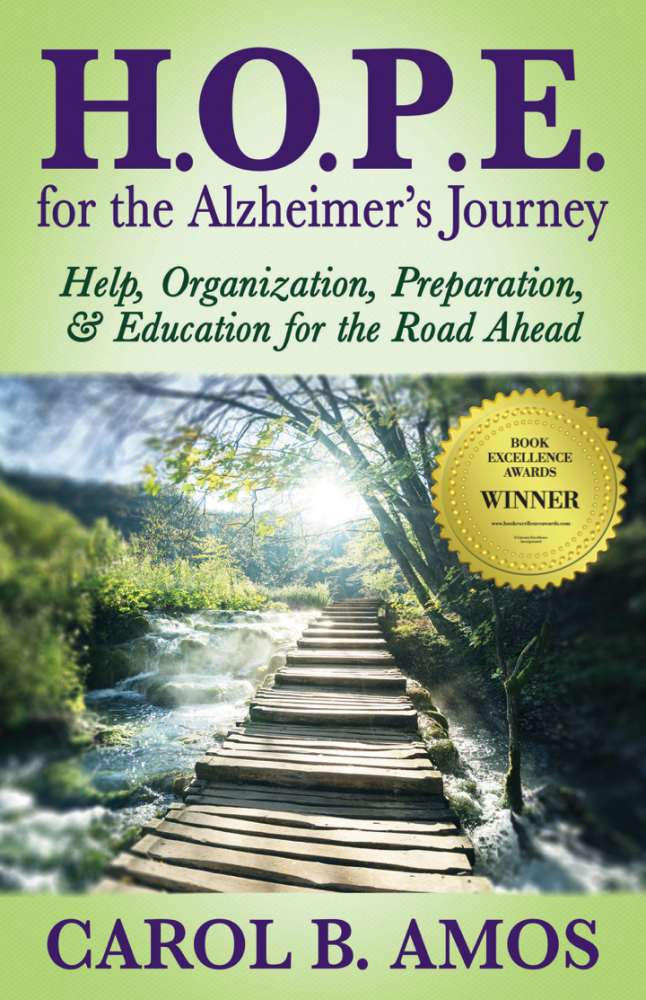 Please help me spread the message of H.O.P.E. by sharing this newsletter with family and friends caring for a loved one with Alzheimer's.
Please Take Care of Yourself!