THE CAREGIVING PRINCIPLE®: PREPARING FOR THE NEXT PHASE OF THE JOURNEY
The Caregiving Principle®: Preparing for the Next Phase of the Journey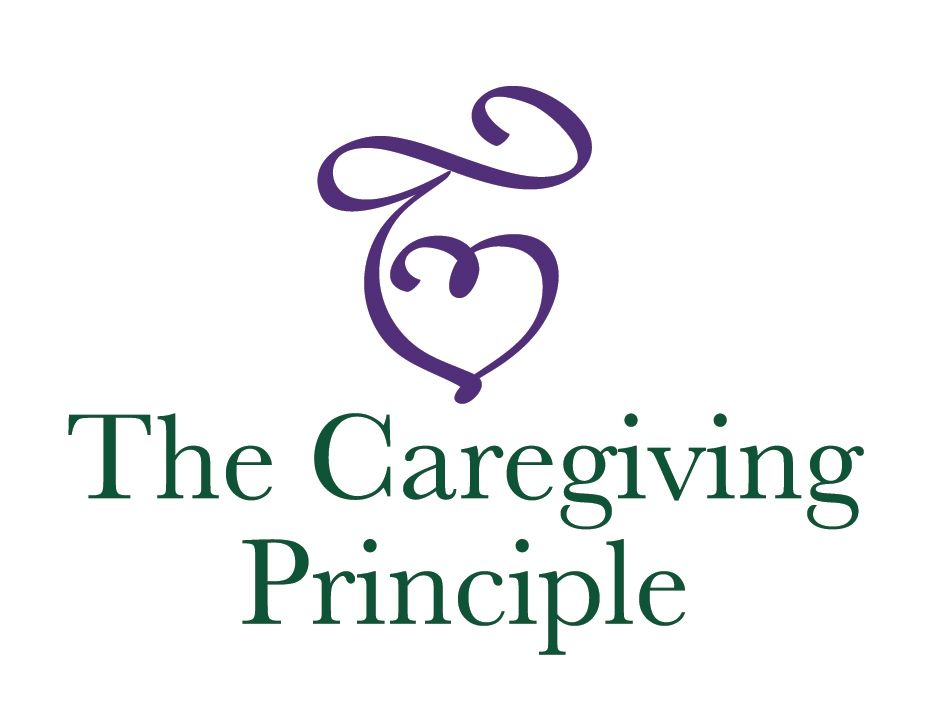 My mother, Elizabeth Boyd became a widow in 1987 and adjusted to living alone. My brothers and I, living in other cities, visited most holidays. We provided some level of caregiving to our mother for the last fourteen years of her life. Initially, this assistance involved minor household issues. As her Alzheimer's disease progressed, she required more help from family and then from professional caregivers. I realized that the degree of caregiving required was related to the needs of the person and his or her capability. I named this fundamental concept The Caregiving Principle®. It states:
Needs of the Person – Needs Filled by the Person = Needs to Be Filled by the Caregiver(s)
Your loved one has needs. In the early stage, your loved one will be able to meet most of their needs. But as the disease progresses and as they age, your loved one will be unable to take care of as many of their needs. These unfilled needs defines the role of the caregiver or caregivers. Initially my mother needed family oversight but then she began to need more, a social worker, then a social worker and a nurse, then assisted living, and then memory care.
The second component of The Caregiving Principle® is "Needs Filled by the Person." These needs are filled based on the capability of the person, as defined by the cognitive capability (which declines as the disease progresses) and the physical ability (which declines with age and as the disease progresses). Caregivers need to prepare for the increase in required care. The increase in care could be additional help from family and friends, using professional caregiver services, or moving the loved one to a residential facility. Speak to relatives and friends who are or have cared for a loved one. Use the Alzheimer's Association / AARP Community Resource Finder to identify adult day care, professional caregivers, residential facilities, and memory care in your area. Visit multiple types of residential facilities, multiple times, to identify a good fit for your loved one. Advance preparation allows for a more leisurely and a higher quality search. When my brothers and I decided that my mother could not live alone, my brother Mike had already visited an assisted living facility 6 months prior. This advance work made a very stressful time (moving Mom, selling a house, etc.), less stressful.
The Caregiving Principle® encourages caregivers to prepare for the next phase of the journey.
Spreading my Message of H.O.P.E.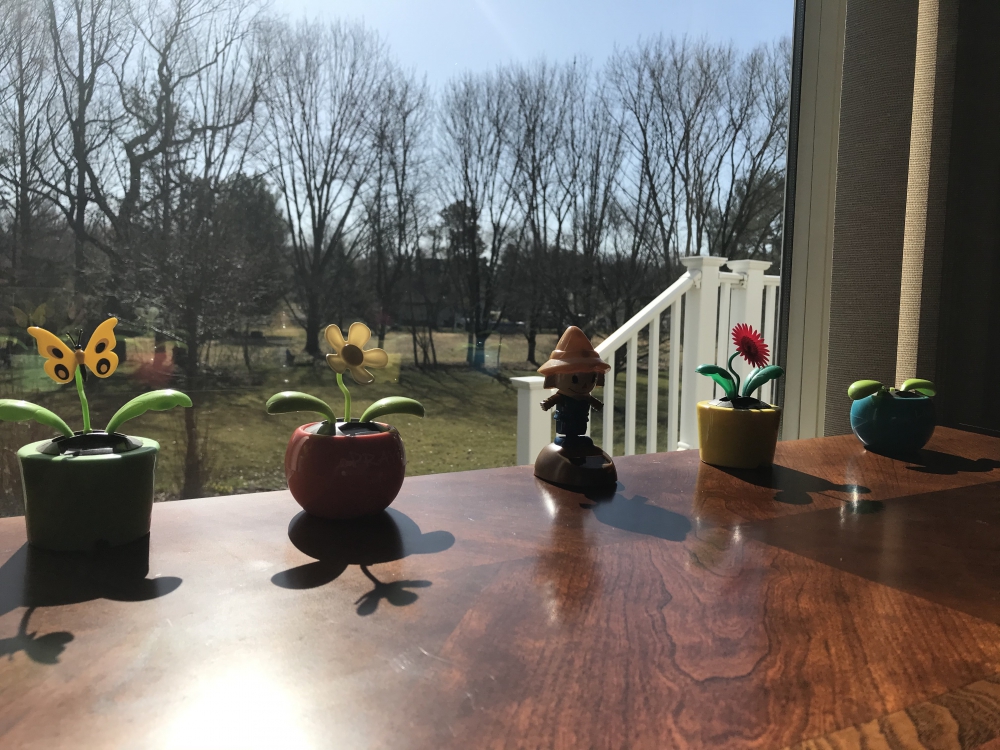 I was honored to be a guest blogger for After Cloud. After Cloud is an innovative app in the 'Life tech' space, which helps individuals capture and share life moments in a closed group setting. After Cloud allows you to create a lasting digital legacy. It is making a real difference in people's lives. Thank you Darren Evans, CEO and Founder for creating this app and allowing me to share my story "Hope in the Later Stages of Dementia." Please read my blog post and visit Darren's After Cloud website.
I was equally honored to be a guest blogger for Nancy Jo Wilson's blog, Six5mom.
Nancy Jo wears many hats including homeschool mother, women's ministry leader, and caregiver for her parents. She is also the author of "Lost in the System" a novel available for pre-order now. Her blog centers around faith and family. I share my story "Faith and Love: A Beautiful Combination for Our Alzheimer's Journey." Please read my blog post on Nancy Jo's website.
AlzAuthors Mother's Day Giveaway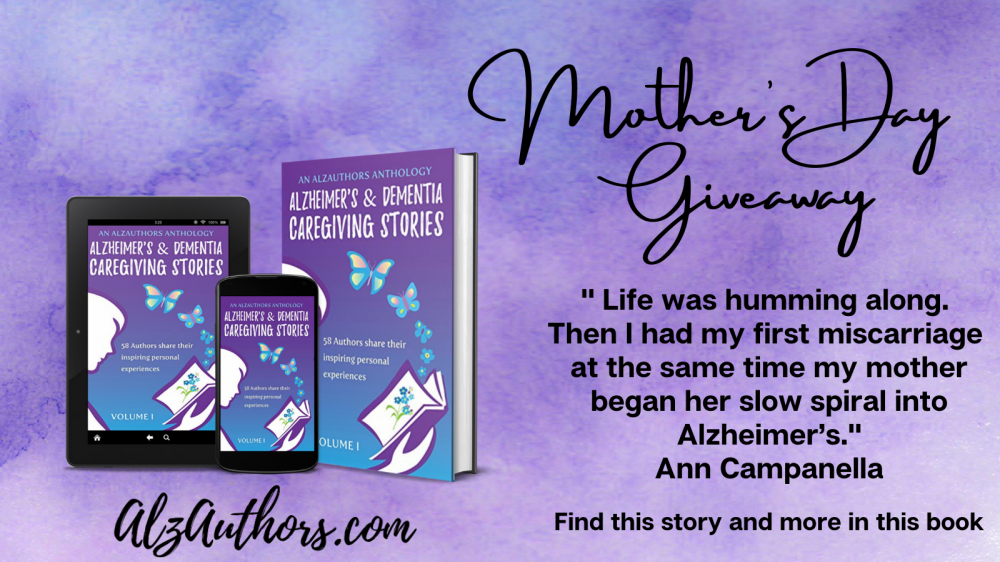 In honor of Mother's Day, AlzAuthors is offering free Kindle copies of our first anthology Alzheimer's and Dementia Caregiving Stories: 58 Authors Share Their Inspiring Personal Experiences.

Within these pages you will be immersed in a world of writing about Alzheimer's and dementia. The editors of this anthology have worked tirelessly to find and vet resources – memoir, novels, nonfiction, poetry, children's books, and blogs – to provide those living with dementia a friendly place to find the support and knowledge they need.

This is a lovely gift for the caregivers in your life. So share away! We all know someone who needs comfort and support on their dementia journey. The paperback is also on sale and the anthology is available in audiobook, too. Order your copy of Alzheimer's and Dementia Caregiving Stories.
Honored to be part of AlzAuthors.


Firebird Book Award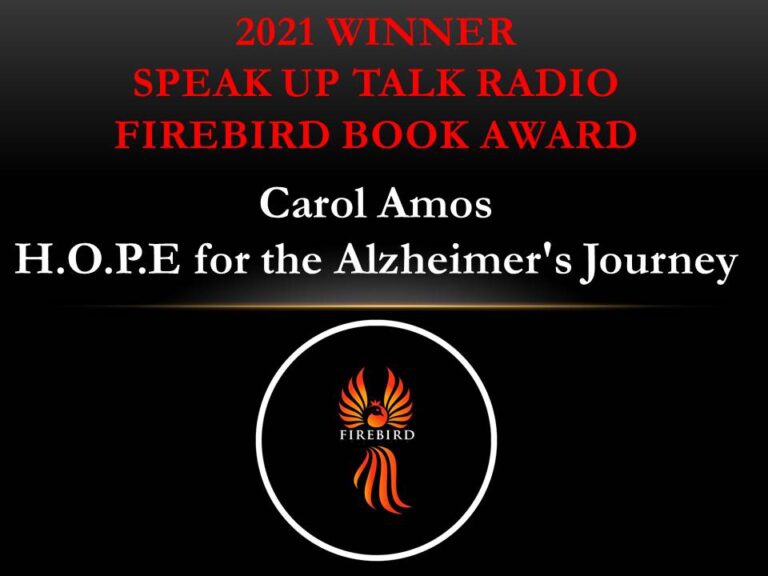 H.O.P.E. for the Alzheimer's Journey is an April 2021 Firebird Book Award Winner in multiple categories. The award is sponsored by Speak Up Talk Radio Network, an organization dedicated to provide handmade pillowcases, pillows, colorful totes, and more to women and children in long-term shelters. I am honored to be recognized by the Speak Up Talk Radio Network and overjoyed to support their mission. Please visit their website and see all of the Firebird Book Award winners.
Please Take Care of Yourself